2016 Nissan Maxima Introduction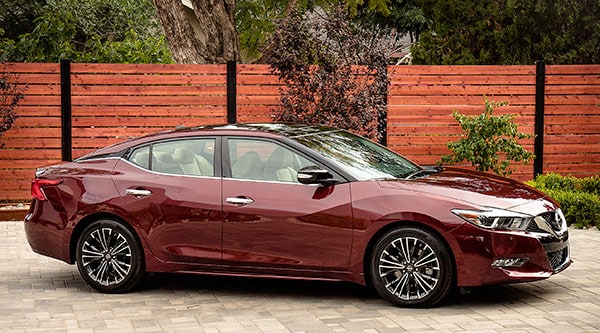 Nissan has given its premier sedan a striking redesign.
Marketing two similar sedans, one for the mainstream market and the other with near-luxury pretensions, hasn't always been so easy for Nissan. For years, the popular Altima family sedan has been a little too closely related to the more posh Maxima four-door. Just as some potential Maxima customers may have stepped down a notch to the Altima, another group might have turned instead to a lower-end version of the stylish, more prestigious Infiniti, from Nissan's luxury division.
Now, for 2016, Nissan has rethought the Maxima, with dramatic impact. As a result, that premium model slots into a class all its own, rather than sputtering along as a deluxe sibling of the Altima.
Although the former Maxima was rather subdued in appearance, the latest version, benefitting from a geometric design theme, flaunts plenty of flair. To a greater extent than some redesigns, this Maxima resembles the show car that served as its foundation. Among other highlights, the roof has a look similar to that of a floating canopy.
Built on a 109.3-inch wheelbase, the 2016 Maxima is 192.8 inches long and 56.5 inches high. That's 2.2 inches longer than before, and 1.3 inches lower. Dimensions are close to those of the mainstream Altima, on the same wheelbase.
Beneath the hood sits an enhanced 3.5-liter V6, the sole engine choice, now generating 300 horsepower along with 261 pound-feet of torque. All 2016 Maximas have front-wheel drive and use a continuously variable transmission (CVT). All-wheel drive is not available. Neither is a four-cylinder engine, which is offered on the Altima.
In addition to a Sport mode that promises swifter responses, the CVT incorporates a shift logic that grows more aggressive when pushing hard on the gas pedal. Premium-grade gasoline is required.
Five trim levels are offered, including a posh Platinum edition and the sporty-performance SR, with such high-tech features as active trace control to enhance its handling talents.
The Environmental Protection Agency (EPA) estimates fuel economy at 22 mpg city and 30 mpg for highway driving, or 25 mpg combined.