2016 Nissan Pathfinder Driving Impressions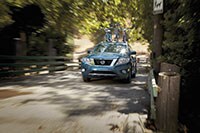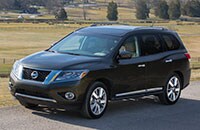 The engine is Nissan's sterling 3.5-liter V6 that has proven itself in countless applications, including the 370Z sports car (a 3.7-liter version). It makes 260 horsepower and 240 pound-feet of torque, good enough for the Pathfinder, if the CVT could only connect to that torque without having to be woken up, especially after the car has been loafing along for a while.
The ride is smooth and pleasant, making long trips a breeze. Noise and vibration, including wind noise, are at a minimum. The Pathfinder rides like a softly sprung sedan, and its lighter weight it noticeable behind the wheel.
In the front-wheel-drive Pathfinder you can feel some torque steer, the front wheels pulling to the side when you get hard on the gas; but it goes away with the more balanced all-wheel drive. That system allows the driver to select fwd only, or awd, with the power electronically dividing between the left and right sides,, as needed depending on the traction at those wheels.
The Pathfinder can be pitched around on choppy roads with more success than some of its rivals, although it is a relative thing, and we're not saying it likes it. The hydraulic-electric power steering is quick and has the right amount of resistance, with a sureness at center. We're not so sure about the tires, however; most models come with tires designed for better fuel mileage, with low rolling resistance, and their hardness doesn't offer as much grip as the steering encourages the chassis to ask for. We drove models with the standard 18-inch wheels and optional 20-inch wheels, and they felt the same.