2016 Nissan Pathfinder Introduction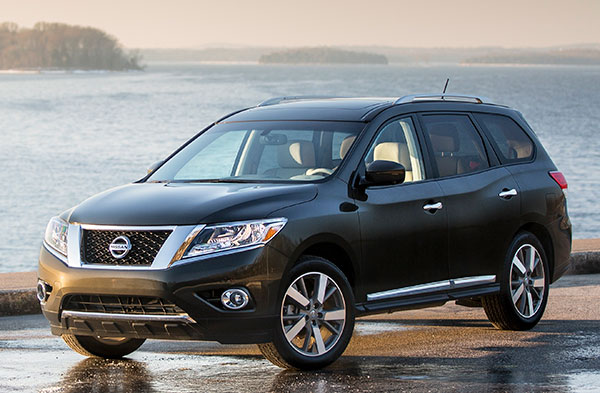 The Nissan Pathfinder is a three-row, seven-seat, midsize front-wheel-drive SUV that became a crossover for 2013, by chucking its chassis that previously came from the rear-wheel-drive pickup truck. So today it's more comfortable than it is tough, down to its very crossover-ish continuously variable transmission, which takes on the SUV challenge by using an internal chain rather than belt.
The CVT is programmed to feel like an automatic transmission by shifting in steps, and this eliminates much of the high-rev annoyance of a continuously variable transmission. However we found a long delay when you floor the superb 3.5-liter V6 engine and ask for all of its 260 horsepower. An available tow package enables it to pull 5000 pounds, with the CVT making adjustments for the weight.
Pathfinder is available with all-wheel drive.
The Pathfinder is spacious and flexible, longer than a Honda Pilot and Toyota Highlander, and shorter than the Chevy Traverse, about the same length as a Ford Explorer or Mazda CX-9. It weighs less than some of its rivals, including the Traverse and Buick Enclave, and although it's still hefty, it handles more like a sedan than a truck, thanks to the tuning of its hydraulic-electric steering. And the ride is refined. It has less ground clearance than the Subaru Outback, but it takes on rutted roads with confidence.
The EPA rates the Pathfinder at 20/27/23 miles per gallon City/Highway/Combined with front-wheel drive, one less mpg with all-wheel drive. The fully equipped and heavier Platinum model gets 21 mpg Combined.
With six airbags standard, the NHTSA gives the Pathfinder five stars overall, with four stars in the categories of front impact and rollover. The IIHS gives it the best Good rating in all of its categories. Rearview camera is not standard.