2016 Nissan Pathfinder Walk Around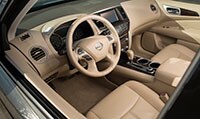 The curvaceous shell of the Pathfinder has nice proportions, concealing its bulk and height. It' a bit swept back, with a long hood, raked windshield and upswept rear window, as well as a bold chrome grille, sculpted fenders, and other touches that remind you it's part of the fancy Infiniti family, while more realistically resembling the smaller Rogue and larger Armada SUVs.
The contours flow up around the front fenders, drop below the window, and climb back over the rear wheelwells. Deep character lines on the hood and front wheelwells give the Pathfinder pop. Too bad it lacks LED headlamps to finish the stylish design.
Interior
Despite any Infiniti influence, the Pathfinder cabin is conservative, with just two colors to choose from, charcoal and almond, in functional fabrics, and plastics that are hard and smooth, durable and easy to clean. Meanwhile the glossier dashboard clashes with matte door panels. The Pathfinder's screens, both the standard screen and the higher resolution navigation screen, aren't touch screens; they use a dial and buttons. The integration of some of the infotainment functions isn't as good Ford's MyFord Touch system, which has its own problems.
The front seats are comfortable and supportive for the driver's back, but the bolstering is lacking. The second row is less comfortable, with short, flat and low seats, so the passengers must lean back and splay their legs. There's plenty of headroom, as a result.
But the rear seat has a feature parents will love, as it allows access to the third row without any adjustment to a Latch and Glide child seat in the center of the second row. Except you should take the child out, first. The second row slides forward to give the third row more legroom. It's roomier than most third rows, with low cushions and a raked back, but it's still mostly just for kids, like them all.
More family friendlies comes with the many bins and trays in the back, including no less than three bottle holders in each rear door panel, along with cupholders on each side of the third row, not to mention four up front. That would be a total of 12, if we've counted right. It sounds very convenient, until you think of the restroom stops.
With the seats folded, there's 79.8 cubic feet of cargo space, on par with most midsize SUVS but dinky compared to the Chevy Traverse's vast 116.3 cubic feet. With the seats up, the Pathfinder shrinks to 16 cubic feet, a number that's doubly dinky.
Nissan engineers worked hard on making the cabin quiet, and it shows.