2016 Nissan Quest Driving Impressions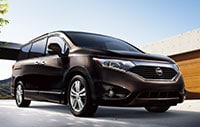 Compared to most minivans, the Quest is fun to drive, providing the best acceleration and steering feel in that vehicle class. Steering beats all competitors, and performance excels, though some may not appreciate the relatively sluggish CVT.
With a smaller footprint than rival minivans, Quest doesn't feel as big as it looks. Due largely to electro-hydraulic steering, it's the most nimble of the group, delivering the most natural steering feel. Ride comfort is helped by an effectively-damped, fully independent suspension. It doesn't bound over long bumps like Chrysler minivans. Despite such impressive handling talents, a Quest seems to corner and accelerate with safety uppermost.
Smoother and quieter than most Nissans that use the same V6, the Quest almost never feels strained or lacking sufficient power. Even the CVT behaves well, thanks in part to Nissan's D-Step shift logic. Those virtual gears help keep the CVT fairly responsive. While CVTs often feel sluggish to respond and amplify noise and vibration, stepped "gears" help it feel fairly responsive, and few will be bothered by occasionally slow reactions to throttle inputs.
The CVT helps make Quest one of the most fuel-efficient minivans, EPA-rated at 20/27 mpg City/Highway, or 22 mpg Combined.