2016 Nissan Quest Walk Around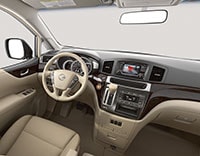 More upright and boxy-profiled than in the past, with a straight-edged passenger compartment, the Quest comes across as more trendy than most minivans. Quest's roots stem from Japanese-market models, while other minivans are typically more curvaceous.
Thanks to large air intakes, the front end looks lower and smaller, whereas the tail ends rather abruptly, or even harshly. Large taillights make it easier to find the Quest in a parking lot, or in the dark.
Interior
On the inside, Quest appears more typical of minivans: passenger-friendly and pragmatic. Yet even here, it feels somewhat formal, with a dashboard of plain-looking LCD displays and stacked rectangles. Atop the controls is an LCD screen: five-inch on midrange models, or eight inches on upper versions. Piano-key type buttons sit below the screen.
Audio controls can be confusing, and some controls are in non-intuitive places. The transmission lever may block the view of certain knobs and buttons.
Though purposeful, Quest fails to offer the cargo and seating benefits of the best minivans, lacking some of the practicality expected in a family vehicle. Front riders get ample leg and head space, and the plushy-upholstered bucket seats allows for large adults to fit comfortably.
Second- and third-row seats are supportive and neatly angled, but they don't move; seatbacks merely fold over. Seats do fold easily enough, using levers and pull straps. The third-row seat is tight and cramped for adults, but acceptable for youngsters. Squeezing a car seat through the narrow sliding-door opening can be tough.
In addition to having a relatively high load floor, the Quest feels small inside. There's no telescoping steering wheel, though a high seating position helps.