2016 Nissan Rogue Driving Impressions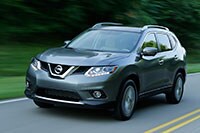 With 170 horsepower and 175 pound-feet of torque, the Rogue doesn't offer blazing acceleration, taking eight seconds to reach 60 mph from a standing start. The CVT is programmed to simulate the feel of an automatic transmission, and it's quick and smooth, but it lacks paddles for the driver to make those simulated shifts himself or herself, so they happen when the program wants them to happen. There's a noisy pause at the top end of the powerband. Compared to the turbocharged four-cylinder engines and automatic transmissions in the Santa Fe and Escape, it's pretty weak.
The Rogue has an Eco mode that reduces revs and slows throttle response, making it even weaker.
The secure handling is partly due to the electric power steering that doesn't wander over grooves. The steering is hefty, not fast, fast but it responds smoothly to changes in steering. The ride on independent suspension is quite comfortable, using electronic assistance called Active Ride Control, which might dampen the throttle to smooth the ride over bumps, instead of surging over them; or Active Trace Control might apply the inside front brake in a corner to draw the Rogue through. In the end though, it works but it still feels bland.