2016 Nissan Sentra Driving Impressions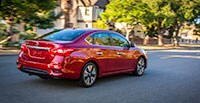 The Sentra ride is relatively soft, as we found on rough streets in New York City. And it's quiet. The 2016 Sentra is the quietest Sentra ever produced.
It isn't sporty, however. It's generally not as much fun to drive as the Mazda 3, Ford Focus or Honda Civic. It's about getting from point a to point b.
The CVT uses artificial shift points to make it feel crisper but doesn't succeed, which is surprising, because the CVT in the Altima is so slick it could be mistaken for an automatic. But the Sentra's so-called shifts are nearly imperceptible; it still revs like a CVT, and makes noise doing so.
Standard are Normal, Eco, and Sport modes, small buttons low on the dash where the driver can't see them. Sport mode quickens the throttle and transmission, while Eco cuts down the AC. We found that the CVT behaved better in Eco mode, by not trying so hard.
The Sentra corners with competence, if not spirit. The speed-sensitive electric power steering has the right amount of resistance, and feels like the Altima. Improved cornering is the reason for the firmer shocks and springs in 2016, plus the chassis has been stiffened by a new front tunnel stay, to reduce roll.
Also new for 2016 is the steering assist that dabs the inside front brake in turns. It was impressive how it worked in aggressive tight turns, although it felt like the driver was being saved, not like the car was capable.
The front suspension is independent with struts, and the rear a torsion beam, with anti-roll bars at each end. The ride is pretty good, and doesn't seem to change with the low-profile tires that improve handling.
The standard brakes are discs in front, drums in rear. The drums will work fine for most Sentra owners, no matter that rear discs might be better on downhill mountain roads. A bigger concern might be the amount of nosedive under hard stops, a suspension issue.