2016 Nissan Titan XD Introduction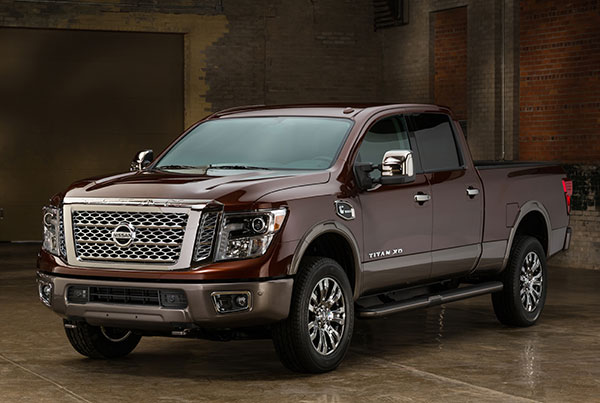 The 2016 Nissan Titan XD is a new semi-heavy-duty pickup powered by a diesel engine and built on a totally new heavy-duty chassis. Equipped with a 5.0-liter Cummins that punches out 555 foot-pounds of torque, the Titan XD is rated to tow up to 12,300 pounds.
Titan XD rides more smoothly and costs less than the heavy-duty Chevy Silverado 2500, Ram 2500, and Ford F-250 Super Duty, but it's more capable than the light-duty Silverado 1500, Ram 1500, and F-150.
Or at least that's the idea behind it. We found it largely delivers on that promise.
The regular Titan has been redesigned for the 2017 model year, and while it looks like the Titan XD inside and out, their chassis have little in common with each other.
The heavy-duty Titan XD is built on a fully boxed, full-length ladder frame that is more robust than that of the standard, half-ton Titan. The XD was engineered to accommodate the larger, heavier diesel engine and to tow and haul heavier loads.
The Cummins 5.0-liter V8 turbo diesel engine that comes in the Titan XD is rated at 310 horsepower at 3200 rpm and 555 pound-feet of torque at 1600 rpm, that last figure particularly impressive and important for towing trailers.
Though it wears a Nissan badge, it isn't completely accurate to call the Titan a Japanese truck. The Titan XD was designed in California and engineered in the U.S. The pickup is built in Mississippi, its Cummins V8 diesel engines assembled in Indiana.
Buyers of heavy-duty pickups often are pulling trailers that weigh 8,000-9,000 pounds, and the Titan XD comfortably handles them with its 12,000-pound towing capacity. Trailers are usually heavier than owners realize, Nissan says, and light-duty trucks, even those that tout 12,000-pound towing capacities, come with lesser brakes and chassis than what the Titan XD brings to the table. Nissan's engineers say they believe in comfortable towing, and by comfortable they mean the kind of comfort that involves comfortably coming to a stop when something unexpected occurs and comfortably managing a strong crosswind so the tail doesn't start wagging the dog uncomfortably.
The Titan XD's four-wheel ventilated disc brakes are substantially larger than those on light-duty pickups. Its towing equipment includes an integrated trailer brake controller, trailer sway control, Tow/Haul mode with downhill speed control, trailer light check system, rearview camera with trailer guides and other cameras pointing every which way.
The 5.0-liter Cummins engine smoothly delivers strong torque, the truck is poised, the brakes feel reassuringly powerful, the crew cab is comfortable front and rear, everything is easy to operate. It's a nice truck.
We found the Titan XD ride quality a bit easier than that of the heavy-duty pickups, such as the Ford F-250 and F-350 and Ram 3500, but firmer than the light-duty trucks, such as the Ford F-150, Ram 1500, Chevrolet Silverado 1500 and GMC Sierra 1500. The Titan XD ride seems closer to that of the heavy-duty trucks, which are all better than they were just three years ago. Compared with the Titan XD, the Ford F-150, Ram 1500, Silverado 1500 and Sierra 1500 all ride like they are on clouds.
In back-to-back driving in a Titan XD and Ram 1500 with the Ecodiesel V6, the Ram felt smoother and more refined, while the Titan felt more prepared to go off road or pull a heavy trailer. Those are seat-of-the-pants impressions. We have not towed with the Titan XD but after driving one for a week have no doubt as to its towing capability.
Tow ratings for the Titan XD range from 10,608 to 12,314 pounds. A Ram 1500 with a 5.7-liter V8 has a maximum tow rating of 10,620 pounds, with most models rated for less than that. Titan XD can be set up to tow a gooseneck trailer literally in a couple of minutes.
In back-to-back driving in a Titan XD and a Ford F-350, the Titan XD rode a bit easier, its softer springs a benefit with an empty bed, though perhaps not as much as might be expected because the ride of the dually not being as bad as imagined. Low speeds on rough neighborhood streets and back roads is where the heavy-duty pickups are the most painful and where the light-duty trucks most noticeably shine. Our Titan XD rode on 20-inch wheels; the standard 17- or 18-inch wheels with taller tires should in theory ride better.
Yet the Ford F-250, Ram 2500, Silverado 2500 and Sierra 2500 all bring a bit more stability to the towing effort, and the 3500 versions bring still more. While we believe the Titan XD is plenty stable, we doubt it is as stable at high speeds and in high winds as the 2500-series heavy-duty trucks, which in turn are not quite as stable as the 3500-series trucks. Like speed, stability costs money, so you have to decide how stable you want to be and that's related to the side and weight of the trailer, geography and other factors.
That said, the Titan XD will handle what many heavy-duty pickup owners need without having to pay for engineering capable of pulling 20,000 pounds. Assuming the Titan XD will serve the buyer's needs, it seems to come down to whether the Nissan makes sense from a pricing standpoint.