2016 Nissan Versa Driving Impressions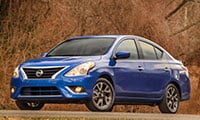 Acceleration from 0 to 60 mph in a CVT-equipped Versa takes a leisurely 11.5 seconds, the very definition of sluggish, and the powertrain will howl if pushed hard. Making only 109 horsepower, the 1.6-liter four-cylinder engine has one of the lowest outputs in the class. The Versa is far from sporty, but it is not trying to be.
On the road, the Versa is competent enough, if unremarkable. Steering is reasonably well-weighted but quite light, requiring small corrections to stay on course at higher speeds. On the plus side, light steering helps make the Versa easy to drive and park on tight city streets. When driven in a relaxed fashion, the CVT works quite well, and Nissan has been a leader with this technology.
Versa excels in ride comfort, even on potholed streets and choppy expressways. A soft, perhaps even sloppy, suspension manages to soak up most road bumps and flaws without losing composure. That's quite a feat in the subcompact class.
We don't recommend the base-model Versa S, with either a manual gearbox or the ancient 4-speed automatic. Both can feel even more sluggish than a CVT-fitted Versa. The Versa S model, with manual or automatic, manages only an EPA-estimated 30 mpg Combined.
CVT models score well in fuel economy, but don't top the rankings. With CVT, Versa is EPA-rated at 31/40 mpg City/Highway, 35 mpg Combined.