2016 Nissan Versa Introduction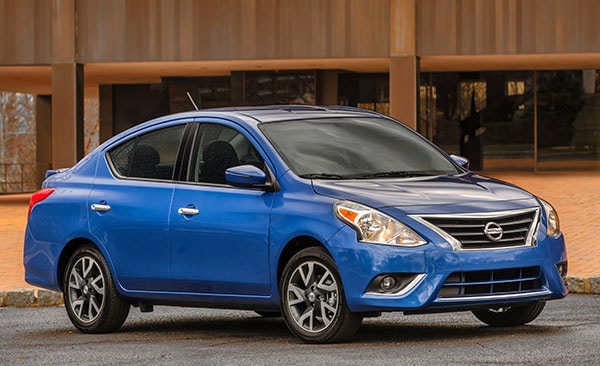 The Nissan Versa is affordably priced and offers excellent value. The Nissan Versa sedan and the Versa Note hatchback deliver no-frills transportation with vast interior space for a subcompact and big seats.
Versa scores well in ride comfort and smooth operation, not as well in performance and crash-test scores. Externally, the Versa models resemble other Nissan sedans but on a smaller scale.
These are good cars for tall drivers. However, the cabin is basic, with all the charm of a bare-bones rental car. Interior trim, controls and switches are basic, and they look and feel as if they were snatched from a spare-parts bin.
After a mild styling update for 2015, the Versa continues largely unchanged for the 2016 model year. Body-colored power mirrors are now standard; the 2016 Versa S model adds a rear speaker; and the 2016 Versa SL gains a leather-wrapped steering wheel. This second-generation Versa was introduced as a 2012 model.
Nissan Versa's 109-horsepower, 1.6-liter four-cylinder engine is underpowered compared to many rival subcompacts. All are front-wheel drive.
Versa is EPA-rated at 31/40 mpg City/Highway with the continuously variable transmission, or 35 mpg Combined. The CVT is efficient but sluggish.
The base Versa S model comes with a 5-speed manual gearbox or optional 4-speed automatic transmission. Pricing with the manual is rock-bottom, but fuel economy sinks to an EPA-estimated 30 mpg Combined, and performance does not improve.
Safety is not a Versa strength, and crash-test ratings are poor. Even as an option, Nissan does not offer any of the advanced electronic active-safety systems that have been turning up in economical cars. The National Highway Traffic Safety Administration gives the Versa sedan a meager three-star rating. The Insurance Institute for Highway Safety declared it Poor on their stringent small-overlap test, but Good in other testing. The Versa Note fared better, but still falls short of competitive models.