2016 Nissan Versa Walk Around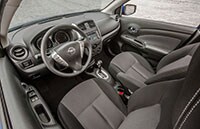 Attractively shaped, the Versa strives to emulate the larger Nissan cars but has fewer and less expressive lines.
Large headlights, a chromed grille, and front-end sculpting, part of the 2015 freshening, mimic the larger Nissans. Because it rides on small wheels and has fewer highlights in its side panels, the Versa sedan winds up looking dowdy.
We find the Versa Note hatchback more interesting. Its proportions are less homely. The Note's hatchback body shares no sheetmetal with its sedan counterpart. Sedans sell much better than hatchbacks, but the latter's overall proportions avoid the low-rent look exemplified by the Versa sedan.
Interior
Passenger space is Versa's primary virtue, even though the interior is undeniably no-frills. It's one of the few subcompacts that can carry four adults in actual comfort, as opposed to the theoretical kind. That said, particularly tall riders might feel limited. Front backrests are well-bolstered, but bottom cushions are short, flat, and insufficiently supportive, so actual is a relative term.
Leg space is bountiful in the rear, compared to many subcompacts, but only upper trim levels get the handy folding back rest. Outboard seating positions are nicely contoured, but the center seat is not.
Trunk space is huge for a car of this size.
Quietness is a virtue. Clunks and thunks should be rarities, in view of Nissan's emphasis on noise suppression. Only the powertrain is likely to get noisy, when pushed. In short, the Versa is quite pleasant for tooling around on beat up neighborhood streets.
While hard plastic is typical in this class, the Versa has it in abundance. As a result, the cabin comes across as undeniably economy-class. Climate controls consist of three simple, easy-to-use knobs. Otherwise, switchgear quality is among the worst that we've tested.