2016 Porsche 911 Driving Impressions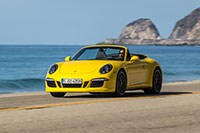 Any sports car would envy the stability, balance, agility and coordination of the Porsche 911, even the Turbo S. With neutral handling, a nimble suspension, amazing brakes, and fast acceleration (awesome in the Turbo and Turbo S), it's a total package.
The 911 no longer oversteers, thanks to electronic management and evolved suspension engineering. The only weakness is the electric power steering; it's accurate and nicely weighted, but doesn't provide the same feel as the earlier 911 with hydraulic power steering.
The base 3.4-liter flat six with 350 horsepower is eager and revs freely. The Carrera S, 4S and Targa 4S get a 3.8-liter making 400 horsepower. Transmissions can be a seven-speed gearbox or seven-speed dual-clutch automatic manual, derived from Porsche racecars and called PDK.
With the PDK, the Carrera accelerates from zero to 60 mph in 4.6 seconds, the Carrera S in 4.3, Carrera 4 in 4.5 seconds, and 4S in 4.3. Cabriolet models add a couple tenths and Targa models a couple more. The GT3, with its 475-horsepower 3.8-liter engine and racing-tuned PDK transmission, takes just 3.3 seconds.
Even with the supercar performance of the 911 Turbo and Turbo S, they are easy to drive. The 3.8-liter 911 Turbo pumps out 520 horsepower using twin turbochargers, and hits 60 mph in just 3.2 seconds with launch control and standard all-wheel drive. The Turbo S uses its 560 horsepower to hit 2.9 seconds and 198 mph.
Speed-wise for the other models, you're looking at 179 miles per hour in the base Carrera, 188 mph in the Carrera S, 177 in the Carrera 4, 185 in the 4S, 175 in the Targa 4 and 183 in the Targa 4S. The GT3 goes 195 mph, and laps the Nurburgring in 7 minutes and 30 seconds.
The available Porsche Active Suspension Management (PASM) has settings from Comfort to Sport Plus. Dynamic Chassis Control (PDCC) adjusts the car's roll stiffness using active anti-roll bars.
With the Sport Chrono package comes launch control, which takes a couple tenths off that 0-60 mph time, as well as providing electronic timing. Carbon-ceramic brakes are also available, useful for track days but not the street because they need to be hot to work well.