2016 Porsche 911 Walk Around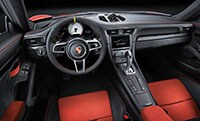 It has a low sloped nose, wide front track, rising fenders with rounded headlamps, and fastback roofline. The wheelbase has grown over the years, out of its awkward looks like an upside-down bathtub, and now stretches the lines into handsome arches and curves. A wide rear track, especially on the turbos with all-wheel-drive, heightens the Coke-bottle shape.
The new 2016 Porsche 911 GT3 RS has vents all over the place, and a giant wing over a ducktail spoiler.
The Targa looks '70s retro, but it functions thoroughly modern. It opens in a complicated meshing of parts that's fascinating to watch, as it tidily folds and stows itself.
Interior
If you overlook the rollcage in the GT3 RS, all Porsche 911 cabins look the same, and that's a good thing, at least for the buyer of the base Carrera. It's a good fit for the task of the 911, a sporty daily driver. The cabin feels open, with a big windscreen and windows. The front seats are comfortable, the so-called rear seats are good for packages–although we once took a full-grown woman for a wild ride back there, over a hundred miles of twisty German roads, and she climbed out with only a few creaks but a big smile.
The front trunk holds a good amount of road-trip gear.
This generation of 911, for the first time, has a full center console, which doesn't skimp on the switchgear. Yet it has a spare look, taken from the Panamera sedan. It's the first Porsche with touch-screen interfaces.