2016 Porsche Cayenne Driving Impressions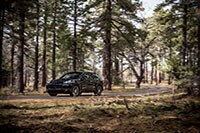 The Cayenne powertrains are strong and satisfying, with the possible exception of the base model with a 300-horsepower V6 that might not meet the performance expectations of Porschephiles. They should be happy with the 420-hp Cayenne S, however. We were.
The Cayenne S E-Hybrid, with plug-in capability since 2015, is quite a bit quicker than the base Cayenne; it can accelerate from zero to sixty in 5.4 seconds, and run solely on the electric motor to 78 mph.
The Cayenne handling, as one might expect from a Porsche SUV, blows any tall utility vehicle out of the water. The steering feel is excellent, there's very little body roll, and huge cornering grip, especially with the big wheels and fat tires on the Cayenne S and Turbo models.
The ride is smooth and comfortable, at least with the optional Adaptive Suspension Management air-suspension system. Combined with Porsche Dynamic Chassis Control (PDCC), which reduces cornering roll using hydraulic anti-roll bars, you can set your driving desires to Comfort, Normal, or Sport modes, which tune the suspension and powertrain.
There's also Torque Vectoring Plus, which uses the brakes to keep the power and grip balanced between the front wheels. It works together with an electronic differential lock on the Sport Chrono package.
As for off-road capability, the Cayenne doesn't pretend to be a Range Rover. The Cayenne doesn't have a dual-range transfer case, it uses Porsche's electronic Traction Management system with modes for sand/snow, rain/mud, or rocky terrain. The system works in these basic conditions, however if you need your Cayenne to do what a Range Rover can do, buy a Range Rover.