2016 Porsche Cayman Introduction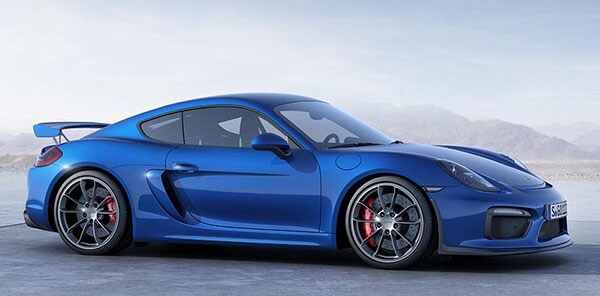 Porsche Cayman looks great and drives great, with balance, poise, and maneuverability. The mid-engine coupe is at its best blasting through canyons and back roads.
Cayman was redesigned for 2014, and not changed much since then. With four available engine versions and two transmissions, same as the 2016 Boxster, it appeals to Porsche enthusiasts with different desires and driving styles.
Cayman comes with a 2.7-liter flat six-cylinder making 275 horsepower; Cayman S gets a 3.4-liter flat-six making 325 horsepower; Cayman GTS, which has the most features and equipment, uses a 340-horsepower version of the 3.4-liter. The GTS adds a sport exhaust, adaptive suspension, and larger wheels.
Transmissions include the standard 6-speed manual or optional 7-speed dual-clutch automatic manual, called the PDK (or, if you prefer, Porsche Doppelkupplung). With the PDK and Sport Chrono package, which includes launch control, the Cayman can accelerate to 60 mph in 5.1 seconds, the Cayman S in 4.6 seconds, and the Cayman GTS in 4.5 seconds.
New for 2016 is the Cayman GT4, stripped down for speed. It's powered by a 3.8-liter version of the flat six, and is aimed at owners who do track days. It makes 385 horsepower, or 45 more than the heavily equipped GTS, and uses the 6-speed manual gearbox. Acceleration from 0-60 takes just 4.2 seconds, according to Porsche.
Cayman gets 20/30 mpg City/Highway with the manual transmission, according to EPA estimates, 22/32 mpg with the dual-clutch. The Cayman S is rated 20/28 mpg with the PDK, the GTS 22/31 mpg, the GT4 18/23 mpg.