2016 Porsche Macan Driving Impressions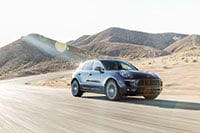 The 340-horsepower Macan S offers performance and handling better than any SUV this side of a Cayenne, while the 400-horsepower Macan Turbo is in a league of its own, with blistering acceleration, effortless grip, and impeccable balance. But even without the turbo, the Macan will run with the turbocharged six-cylinder BMW X3 and the Audi SQ5. And it's no lightweight, weighing 4100 pounds.
The 7-speed dual-clutch transmission doesn't mess around, especially with the Sport Chrono option that quickens the shifts. The steering is quick, like no SUV we've driven, and absent of the expected SUV dead spots, though it feels numb and lacking in feedback.
In normal driving mode, the Macan is relaxed and easy to live with. It drops briskly and beautifully into corners, and accelerates out of them using the available torque vectoring, with a dab to the outside wheel. We would still go for the upgrade to the adaptive dampers with their three modes, as well as the Sport Chrono package. If you own a Porsche, it might as well feel like the best available Porsche.
Acceleration performance from the Macan Turbo is only 0.6 seconds quicker from 0-60, but it feels quicker than that, partly because of its turbocharger wastegate noise and deeper exhaust note.
It's hard to get Macan sideways, even on the standard all-season tires 235/55R19 front, 255/50R19 rear. If you don't like the 19-inch wheels, you can go up to ugly 21s or down to lighter 18s, same price. Macan GTS gets 20-inch wheels.
We have a lot of seat time in the Macan, on the road, off the road, and on the track, and it feels unflappable. It falls into line in steep curves, and cranks out of faster corners with a quick flick of the paddle shifter. You can feel the torque steer correcting a mild brief understeer.
The massive brakes offer cocky confidence, but the brake pedal feels soft. Turbo brakes are even bigger than those on the Macan S, with 14.2-inch rotors in front (six-piston calipers) and 14.0 inches in rear.
The available air suspension not only lowers the car for freeway fuel mileage, or jacks it up to carry loads, but it also widens the possibilities for off-road use.
All Macans have an offroad driving mode that adjusts shift patterns and torque distribution at speeds below 50 mph. With the big ground clearance and hill descent control, the Macan might think it's a Range Rover, but it isn't.