2016 Porsche Panamera Driving Impressions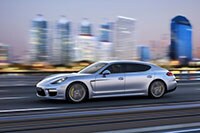 We'll jump straight to the GTS, because that's the Panamera we like most, because it's the model that feels most like a Porsche. It's not the fastest, only the second-fastest after the Turbo. It's a normally aspirated V8, with 440 hp and 384 lb-ft, and it's the best sounding, while being faster than the 3.0-liter V6 turbo that's in the Panamera S, which, with two-wheel-drive and without the Sport Chrono package, takes 4.9 seconds to get to 60 mph. The GTS can do it in 4.2 seconds, so there. Who needs turbos when you have a big honkin' V8?
Of course, if you want to bolt twin turbos onto that V8, you get the 520-hp Panamera Turbo which can hit sixty in 3.9 seconds. But that doesn't make it the best Panamera to own. Its driving dynamics aren't as pure as those of the GTS, which handles more sharply and precisely. The GTS is solid and connected to the road, while most of the rest of the Panameras feel floaty, with overboosted steering. We observed this in back-to-back comparisons. We have also driven them at Road America, and the V6 models offer the more enjoyable handling than the heavier Turbo versions.
Longest and least agile are the Executive versions.
If it's technology you're after, the S E-Hybrid is your model, with its supercharged 3.0-liter V6 engine and electric motor with plug-in charging of its 9.4-kWh lithium-ion battery pack. It's rated at 416 combined horsepower, counting the 95-horsepower electric motor, and with an extra 550 pounds of weight it isn't as fast as the others, but speed is not its game. But it's not slow, hitting 60 mph in 5.2 seconds, quick in anyone's league.
And even with that weight, it handles well thanks to special suspension tuning. As for its ability as an all-electric car, it can go for 22 miles, says Porsche; and hit 83 mph, although it won't go for 22 miles at 83 mph.