2016 Porsche Panamera Summary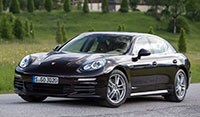 The Panamera is unique, being a high-performance Porsche sports car with the feel of a luxury sedan and looks of a fastback hatchback. It's also extremely expensive, and because it's replacement is on the way, we recommend looking for deals, waiting for the new one, or checking out the competition.
Driving impressions by The Car Connection. Words by Sam Moses. Mitch McCullough contributed to this report.