2016 Scion FR-S Introduction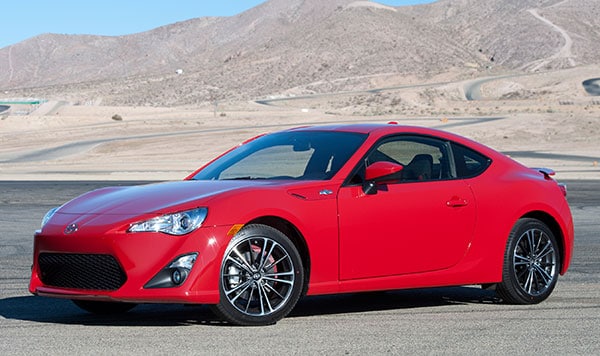 The Scion FR-S is flat-out engineered for fun but comes well equipped, including standard Bluetooth and rearview camera. Navigation isn't available on the Scion, though that feature is available on the pricier Subaru BRZ. The FR-S has standard equipment more along the lines of things like the limited-slip differential. Engineered for fun.
That's what the FR-S is known for: being able to toss the car around and laugh yourself silly. Its 2.0-liter four-cylinder engine comes from Subaru, with Toyota's direct port injection system, and makes a relatively modest 200 horsepower, with the 0-60 time a relatively leisurely 6.8 seconds. So the blast has to from somewhere other than speed, and that is cornering.
First, it's about good balance, with the horizontally opposed engine mounted rearward. The boxer engine design means a lower center of gravity, because the cylinders are parallel to the ground and keep the weight low. And the FR-S is rear-wheel drive, with front wheels free to do the turning, unburdened by the driving. It comes with either a six-speed manual gearbox or six-speed automatic with paddle shifters.
The FR-S engineering philosophy goes against the new-school sports car grain of big horsepower and sticky tires. The FR-S comes standard with harder (thus longer lasting) tires, so that the car will slip a bit. It's forgiving and responsive, thanks to the excellent balance and horsepower that's not out of this world. So it makes you feel like Fernando Alonso.
And there are serious performance upgrades available, including a cold-air intake; exhaust system; lower springs; strut braces; anti-roll bars; bigger wheels and brakes. But to prove it's not hard-core about performance, there is an available infotainment system with seven-inch screen and voice control.
Changes for 2016 include some tweaks to the body and cabin trim, a new eight-speaker audio system, and rearview camera. With six airbags, FR-S gets five stars from NHTSA and top safety pick from IIHS. It gets an EPA-estimated 25 mpg Combined with the manual transmission, and 28 mpg with the efficient automatic.