2016 Scion FR-S Walk Around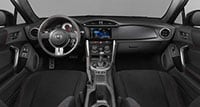 The FR-S puts aerodynamic touches at the nose and tail to classic proportions of a long hood and short deck. It is low, curvy and sleek, with a wide grille and sharp vents in the front fascia flowing toward the bulging flared fenders. The roof rolls in a graceful arc toward the stubby tail.
Interior
The spartan cabin can't be called beautiful, but it is handsome and well built, with upholstery that's just one color, faux carbon-fiber trim, and durable plastics that flow cleanly. The gauges are driver-oriented, front and center.
The front seats are excellent, well-bolstered and comfortable, with good leg and hip room. There's also good head room, so a six-foot driver is no problem. There's a small rear seat that's kid-sized, though it is possible for another six-footer to fit back there if the front-passenger seat were slid all the way forward.
The growl of the engine is piped in. Over 70 mph the wind and road noise is prominent.
The cargo space is not bad for a sports car, or rather a two-plus-two coupe. The trunk is decent and the rear seats fold flat. The FR-S was designed to hold four tires and a toolbox, for track days.