2016 Subaru Crosstrek Driving Impressions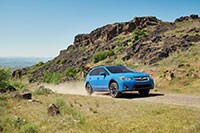 The Crosstrek is solid, but not quick. Its 148 horsepower has to pull 3200 pound, which isn't heavy but 148 horsepower isn't much. What's more, the 145 pound-feet of torque doesn't peak until 4200 rpm. It responds and accelerates with the manual transmission, but it's also more thirsty and you can't get one anyhow.
It's lamentable that the 5-speed manual transmission is so hard to get, because the all-wheel-drive system is old-school Subaru, which has felt good for years and years. It's a viscous-coupling system with locking center differential that feels direct and connected. The CVT uses an electronic variable transfer-clutch system.
The Crosstrek feels like a car, not a tall small crossover. The ride is smooth if a bit noisy, with very little pitch or head toss, unlike some SUVs, even on choppy two-lanes. It doesn't feet at all tippy despite the height, however it's more sensitive to crosswind, and it wanders on the highway (more than Impreza does, presumably from changes to the suspension and tires). The steering is somewhat numb, and it doesn't handle as well as the Impreza; although still we'd say it's relatively crisp and athletic in corners, compared most all-wheel-drive compact crossovers, except the Subaru Forester. The electric power steering is light.
With its big front brakes, it will stop quickly, but it also nose-dives and bounces back upright. Off road, the approach angle of 18 degrees and departure angle of 28 degrees enable crossing rocks and logs, as long as the all-wheel drive can keep up.
The Crosstrek Hybrid powerplant makes less horsepower than other hybrids. The 48 pound-feet of torque from the electric motor can get the car moving, but you'll probably get honked at from behind for being a slowpoke. The battery is charged regenerative braking at speeds under 40 mph. The Hybrid shuts off the engine when it's stopped at redlights.