2016 Subaru Crosstrek Walk Around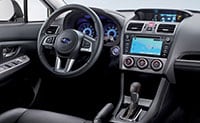 The Crosstrek looks macho, especially when compared to the Impreza. The body mixes style with utility. The black fender flares are tidy, not overdone, and not ugly as they would be on many other cars. Three Crosstrek-specific colors help it stand out on the highway: a blue like French racing blue; a khaki like pea soup with milk; and a soft orange-ish shade like we remember from the Porsche 911, years ago.
Interior
The Crosstrek cabin doesn't depart from the Impreza, except for seat fabric that is more rugged and looks better for it, we think. For 2016, Crosstrek has gotten some freshening, including black and silver trim on the dashboard, orange stitching here and there, and LED illumination around the center console.
The interior materials are solid and basic. The dashboard has a soft-touch material on top that gets almost sticky in heat and humidity. The analog instruments are easy to read and make the dash sporty. A 6.2-inch touchscreen is standard, with Premium and Limited models getting a 7.0-inch screen.
The visibility is much better than most crossovers because of thin pillars and a low beltline with a lot of glass. With the height and fairly upright seats, this gives the Crosstrek a relatively commanding POV on the highway.
The driver's seat feels somewhat short and flat for long hours of comfort. The rear seat is shaped well for grownups, and it easily does its 60/40 flop.
Subaru knows that its bread is buttered in the cargo area, so they spent a lot of design time there. It's convenient to reach into, box-like with no intrusions. Dogs welcome. A rubber tray slides out to be hosed off. The 150-pound roof rack is standard.