2016 Subaru Forester Driving Impressions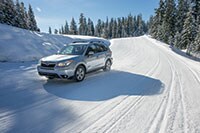 Subaru Forester handles with more sport than its competitors, namely the Honda CR-V, Nissan Rogue, and Toyota RAV4. The steering is nicely weighted, and the boxy body doesn't roll much. The ride is comfortable and not abrupt over large bumps. The Forester doesn't have the athletic ride or steering of the Ford Escape, or the driving pleasure of the Mazda CX-5, but it's fun and highly capable on the highway, in snow, on gravel roads.
The acceleration in the 2.5i isn't quick, but it's adequate. Its zero-to-sixty time of 9.3 inches isn't impressive, but because its peak torque of 174 pound-feet is available from 2000 to 4000 rpm, you've got power when you need it.
If you want quick acceleration (from 258-pound-feet of torque) spend another 11 grand for the 2.0XT and pump in premium gas. It will accelerate from zero to 60 in just 6.2 seconds. It offers quickness in other areas, such as turning and stopping, the XT offers a sport suspension on 18-inch alloy wheels with grippy tires, and bigger brakes with ventilated rotors.
Subaru's SI-Drive system offers three modes, Intelligent, Sport, Sport Sharp, that change the throttle response and transmission shift points (the base Forester 2.5i doesn't get this feature).
The CVT will be fine for most people. It's livable and unobtrusive, the least annoying CVT we know of. And when you ask a lot of it, for example in the 2.0XT using Sport Sharp mode, its simulated eight-speed relieves any boredom, with snappy shifts using the paddle shifters. In Intelligent or Sport, there are only six simulated gears.
We like the 6-speed manual. The clutch pedal is smooth and we enjoyed shifting manually.
The Forester is fine with going off road, with almost 9 inches of ground clearance, a tidy turning circle of 34.8 feet, and steep approach and departure angles. Its all-wheel-drive system is front-to-rear, but there's a function called X-Mode that moves power left-to-right at low speeds, putting the Forester on the same field as Jeep and Land Rover. In a demonstration, we watched a Forester climb up and over a steep and slick ramp. Subaru has a lot of experience with all-wheel drive and suspension design and is very good at both.