2016 Subaru Forester Introduction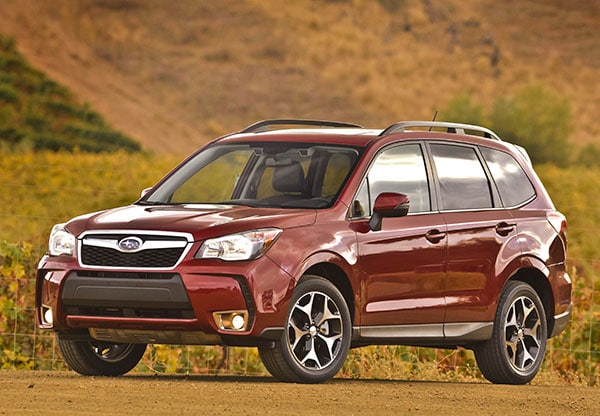 The Subaru Forester is a well-known compact crossover utility vehicle with all-wheel drive. It is Subaru's bestselling model. The Forester looks and feels more like a wagon than an SUV; in fact, the Forester pretty much invented the crossover. It adds practicality and versatility to its rugged all-weather capability. It can carry five people and their bags, if not all their back-country gear. There's a roof rack for that. It will even tow a small trailer.
Competitors include the Mazda MX-5, Ford Escape, Honda CR-V, Nissan Rogue, and Toyota RAV4; but, ironically, its main competition might be the Subaru Impreza XV Crosstrek.
The base Forester 2.5i is powered by a 170-horsepower, 2.5-liter H4 (horizontally opposed cylinders, also called a boxer engine). The faster Forester 2.0XT is powered by a 2.0-liter boxer, turbocharged direct-injection, making 250 horsepower and 258 pound-feet of torque.
Forester 2.5i is one of the few compact crossovers that you can get with a 6-speed manual transmission, but most opt for the CVT. Forester 2.0XT only comes with a CVT.
For 2016, Forester gets few changes: some additions to security and infotainment, enhancements to the system Subaru calls Starlink. This generation of the Forester was completely redesigned for the 2014 model year.
Forester is an IIHS Top Safety Pick+. In the NHTSA crash tests it got five stars in every category but frontal impact, where it got four. Its EPA fuel mileage of 24/32/27 mpg City/Highway/Combined is at the top of the compact crossover class.