2016 Subaru Forester Summary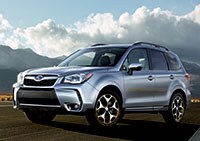 The base Forester 2.5i is a whale of a value at less than $23,000. You get proven all-wheel drive, ruggedness, balanced handling, safety, 27 mpg, non-distracting instrument panel, room for five, and tons of cargo space. If you want the extras, there are three upgraded models. If you want the Mr. Hyde speed-demon version, there's the 2.0XT turbo.
Sam Moses contributed to this report.