2016 Subaru Legacy Driving Impressions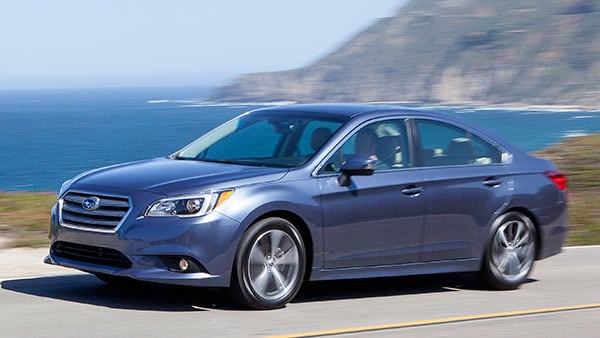 On the road, the Subaru Legacy is expertly balanced, smooth and graceful. The suspension takes the edge off rough roads, for a smooth ride. The electric power steering gets a heavier feel when turning, helping the Legacy to track neatly and drive easily.
Acceleration performance is not the Legacy's strongest suit. When carrying a couple of passengers, the four-cylinder has to work to tackle steep hills.
Though impressively smooth, the six-cylinder lacks the vigor of Subaru's turbocharged engines, and the 3.6R is not that much quicker than a 2.5i model. Yet, it's quite satisfying on the road. When tromping the gas pedal, response may not be dramatic, but it's clearly seamless and does not feel strained.
Both engines are solid, and traditional Subaru buyers, who typically favor economy and predictable behavior over performance, are likely to be fully satisfied. Because the CVT works with belts and pulleys, not gears, operation is smooth and step-free, though paddle shifts provide six programmed simulated ratios.
A torque-vectoring feature in the all-wheel-drive system can shift power between the front rear wheels, and apply brakes on an inside wheel when cornering. Subaru is a leader in all-wheel-drive technology, a benefit of its extensive rally experience.
The 2015 Legacy and Outback earned the IIHS Top Safety Pick+ rating with the available Subaru-developed EyeSight system, which includes Adaptive Cruise Control, Automatic Pre-Collision Braking and Lane Departure and Sway Warning, and, for 2016, adds a Lane Keep Assist function. Blind Spot Detection plus Rear Cross Traffic Alert are also available. Also available: fog lights that swivel in the direction of a turn.