2016 Subaru Outback Driving Impressions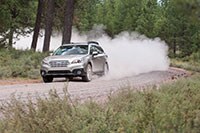 Whether drifting down a dusty trail, twisting over mountain roads, or hurtling along an expressway, Outback is prepared to deliver a satisfying experience. An X-Mode lets the Outback become more adept along that trail, when that kind of driving is needed, while delivering greater response when on regular pavement. At 190 inches overall, the Outback is easier to park than a lot of rivals.
Acceleration performance doesn't match the Outback's other merits. With either engine, the Outback is sluggish when moving out from a stoplight. Even the six-cylinder (3.6R) engine lacks the torque from the turbocharged engine in Subaru's Forester XT. Subaru claims the 3.6R delivers 225 pound-feet of torque between 2000 and 6000 rpm, but acceleration isn't that much swifter than the four-cylinder version.
Subaru's continuously variable transmission feels almost like a regular 6-speed automatic transmission, though it works with pulleys and belts, not gears. Performance from its CVT beats that of many rivals, partly because even during leisurely acceleration, the ratios change quickly and subtly, without a hint of engine/transmission mismatch.
All-weather capability and trail driving are improved because Outback uses the Forester's Enhanced Active all-wheel drive system with X-Mode. Active torque vectoring provides control of each wheel when traction is an issue. X-Mode promises to reduce touchiness in the gas pedal, also altering the CVT's shift pattern.