2016 Subaru Outback Walk Around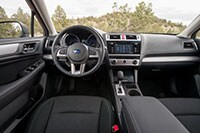 The Subaru Outback flaunts its ruggedly simple, outdoors-aimed design cues with lower-body cladding. Sitting higher up than the Legacy sedan on which it's based, Outback has an abundant 8.7 inches of ground clearance, more than some conventional SUVs.
Outback has a jaunty profile, if blunted in appearance.
Outback's grille is more upright than it used to be, prior to the 2015 redesign, with active shutters that can improve gas mileage.
Interior
Outback's interior feels relatively upscale, unlike Subaru models of yore. The driving position is carlike, higher up than in a sedan but not as tall as in most SUVs. So, getting in and out isn't a problem.
Front seats are comfortable. Limited models are upholstered in impressive-looking perforated leather. Models with heated seats have warmers for the seatback, as well as the cushion.
Trim elements feature slightly rounded edges, while the dashboard reaches out to the sides. Rear seats promise ample room even for three average-size adults, though legroom could be a bit better.
Though comfortable in most driving conditions, trudging down highly uneven trails can bring some discomfort to riders, because the car-based suspension does not allow as much wheel articulation as a taller, conventional SUV might.