2016 Subaru WRX Driving Impressions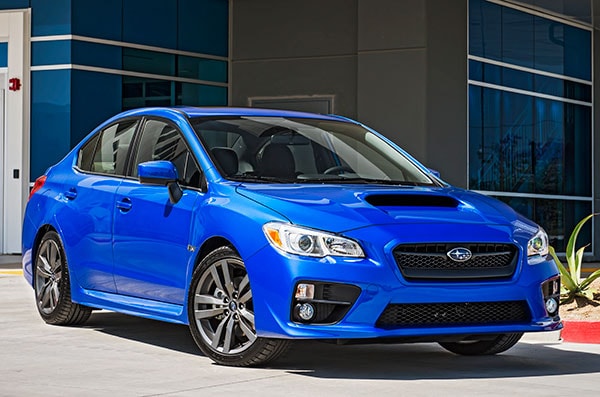 The turbocharged 2.0-liter engine makes 268-hp and 258 lb-ft of torque over a very broad range, from 2000 rpm to 5200 rpm. It is a tart performer; Subaru claims 0-to-60 in 5.4 seconds. It will arouse every joint in the car's suspension, and use every gear in its box. There might be four of them, depending on how you count. The standard six-speed manual gearbox or the eight-step CVT. The center differential comes in two types, to go with the transmissions.
The six-speed mates with a viscous-coupling center differential that splits torque 50:50 front to rear, while being able to vary that split side-to-side as grip demands. The shifts are reasonably short.
The CVT isn't a gearbox because there are no gears, just pulleys and belts that simulate gear changes. It's the first CVT that Subaru has built, and it responds probably better than any CVT we've tested. In Intelligent driving mode, it constantly alters its gear ratio to deliver the best fuel mileage, an EPA-estimated 28 mpg Highway. In Sport manual mode, it allows the driver to paddle-shift through six pre-set ratios that act and sound like gears. In Sport Sharp mode, it responds like a dual-clutch transmission (for example the Volkswagen/Audi DSG), with eight virtual gears, as well as super-swift throttle response. With the CVT, the WRX gets a different all-wheel-drive system, one using a 45:55 front-rear torque split and more sensitive stability/traction control.
The WRX loves switchback situations. The electric power steering is tight and the handling composed. With firm shocks and springs, stouter brakes, and big anti-roll bars, it feels almost stiff on some road surfaces. Hard-core drivers might light up at this, but daily drivers might suffer from dampened enthusiasm. To add to the fun, there is electronic torque vectoring, or undetectable braking on individual wheels that helps turn the car into a corner.
The Ford Focus ST can match the WRX in acceleration and grip, but it doesn't have the Subaru's beautifully balanced handling and spot-on steering. Part of that comes from the boxer design of the Subaru engine, with horizontally opposed cylinders that lie flat and low in the chassis, bringing down the center of gravity.
The standard 17-inch Dunlop SP Sport Maxx RT 45-series tires seem well matched to the suspension, but the brakes in two WRXs we drove felt numb and demanded a strong leg. The brakes on the Focus are more fun.