2016 Subaru WRX Walk Around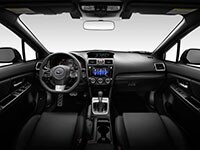 Subaru WRX looks big and boxy for a compact sedan, while the scoop on the hood shouts what it's all about, and the pronounced fenders echo the sentiment. Almost all the sheetmetal is unique to the WRX, not borrowed from the similar but mundane Impreza. The grille, air dam, hood, fenders and headlights (LED on upgrade models) are all WRX only. The standard wheels are 17-inch alloys, but some models have 18-inchers that look more aggressive.
Interior
The flat-bottomed steering wheel is the first thing that catches your eye when you climb in the car. The manual sport seats are covered in a grippy fabric, so good that the optional leather not only isn't necessary, it steals some of the car's character. And most WRX owners won't need power seats, as they'll be the only one driving the car.
Forward visibility is good thanks to the hood scoop going shallow, not tall; and to slim A-pillars and a somewhat low shoulder line. There's lots of elbow room up front. There's reasonable space for two adults in the rear, but three will be pinched.
On the dash, there's a cowl over the main gauges and a smaller cowl over the 6.2-inch touch screen. Vast expanses of black plastic come off handsomely, with matte-silver trim.
There's high road noise inside, to remind you what kind of car you're in.
There's an average amount of storage space, even with generous bins and trays. The trunk is 12 cubic feet, and it opens to the cabin over the fold-down rear seats. This is where the hatchback WRX is missed.