2016 Toyota Camry Driving Impressions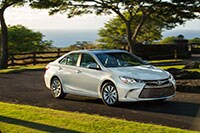 Every version of the Camry delivers a smooth ride along with confident handling. These are easy cars to live with.
2016 and 2015 models benefit from suspension tuning that offers a dash more control, enhancing driving character without affecting the traditionally smooth ride. At low speeds, in particular, drivers can expect a responsive manner, with confident control. On the highway, the tauter spring/shock settings help constrain harshness and overcome bumpy stretches. While absorbing the most troublesome pavement defects, the Camry's suspension rebounds with full control.
Brakes, too, feel confident, and wind noise is nicely subdued.
For most drivers, the four-cylinder engine suffices easily, performing smoothly, though languid when starting off. Strain may often be felt with passing or climbing a modest grade, but only until the 6-speed automatic transmission downshifts. Fortunately, the transmission reacts quickly and decisively.
With the 3.5-liter V6, the Camry feels quick, with excellent driveability even when carrying a full load of passengers. In real-world driving, the V6 isn't as thirsty as its EPA rating of 21/31 mpg City/Highway might suggest, but it's no fuel-miser, either. Even the four-cylinder falls short of class-leading status, EPA-rated at 25/35 mpg City/Highway, or 28 mpg Combined.