2016 Toyota Corolla Driving Impressions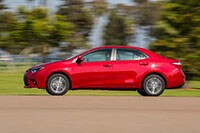 Overall, the Corolla feels refined, though short of best in class. Engine sounds are nicely isolated.
Fuel-efficiency is a strong point and all models run on Regular 87 octane gasoline, so no need for more-expensive Premium. The 2016 Toyota Corolla with CVT is EPA-rated at 29/38 mpg City/Highway, or 32 mpg Combined. Corolla S with CVT gets just slightly less, rated 29/37 mpg. Corolla S or Corolla L with 6-speed manual is rated 28/37 mpg. Corolla L with 4-speed automatic is rated 27/36 mpg.
The Corolla LE Eco model is EPA-rated at 30/42 mpg City/Highway, or 35 mpg Combined. Eco Plus or Eco Premium editions are slightly less thrifty.
Driveability is decent in a CVT-equipped Corolla, though they lack energy from a standing start, especially when is facing a hill or filled with passengers.
That said, a CVT Corolla feels downright jaunty compared to a base model with the 4-speed automatic. Not only is the Corolla L with automatic slow when passing, it consumes more fuel. For this reason, we don't recommend the Corolla L with the automatic; for the Corolla L, we recommend the 6-speed manual transmission.
The 6-speed manual shift linkage doesn't reach sports-sedan precision, and the throws are somewhat long, but the clutch operates lightly and predictably, making a stick-shift Corolla easy to drive in stop-and-go commuter traffic.
Despite a bit more horsepower, don't expect the Eco model to feel discernibly quicker.
Underway, the Corolla rides almost pillow-like, though wiggly rural roads can keep the suspension busy trying to accommodate curves and surface undulations at the same time. Expect some rebounding over railroad tracks and prominent bumps.
Only the sporty Corolla S delivers authentically rewarding handling. The Corolla S suspension is enjoyably taut and controlled, yet free of harshness.