2016 Toyota Highlander Driving Impressions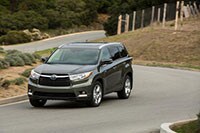 Underway, the Highlander is calm and quiet. Thick acoustic glass suppresses powertrain sounds, while floor insulation minimizes suspension noises.
The Highlander offers handling that is neat and responsive. It rides firmly, not softly, which feels appropriate. The electric power steering has a satisfyingly firm feel. Skip the optional 19-inch tires, if ride comfort is a goal; 18-inch wheels and tiers should smooth the ride slightly.
Most Highlanders come with the 3.5-liter V6, which is relatively strong.
Conversely, acceleration performance from the Highlander Hybrid is not impressive, considering the total 280-horsepower output. Gas mileage is better than either conventional Highlander, but the added weight of hybrid components inevitably drags down acceleration.
The Highlander LE with 2.7-liter engine comes only with front-wheel drive. For a large-displacement four-cylinder, it's runs more smoothly than expected, but it's underpowered. Ordinarily, the four-cylinder Highlander accelerates at a reasonable pace, but responses slow down appreciably if you're carrying a full load of passengers and luggage.