2016 Toyota Highlander Walk Around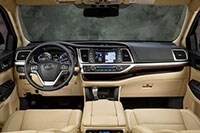 The Toyota Highlander looks a bit more SUV-like than many crossover competitors. Just consider the gaping grille, as well as the prominent wheelwells and door sills, signs that suggest ruggedness.
Externally, the Highlander occupies an ambiguous area between all-out SUVs and more dapper, carlike wagons. This, at a time when most larger crossovers, such as the Ford Flex and Hyundai Santa Fe, have been moving in the tall-car direction.
While some critics dismiss the Highlander as bland, its design has improved in recent years. At 191.1 inches in length, the Highlander is significantly smaller than the Nissan Pathfinder.
Interior
Conversely, the cabin is strictly carlike, and it's a visually appealing mingling of textures and lines. Impressive refinement approaches the qualities of a luxury vehicle, including rich soft-touch materials.
Navigation systems feature a large touchscreen, but many functions use solid buttons, which is good. Instruments are large. A large, useful storage shelf runs along the lower dashboard.
Seats are comfortable, making it easy to enjoy the smooth, quiet Highlander ride. Driver visibility is helped by large rear-quarter windows and repositioned pillars.
The second row may have either a three-person reclining split bench, or twin captain's chairs. Second-row headroom is limited by the standard sunroof.
Though wide, the three-person rear bench is short on headroom; but it folds flat. Cargo space totals 13.8 cubic feet behind the third row, with a maximum of 83.7 cubic feet.