2016 Toyota Prius v Driving Impressions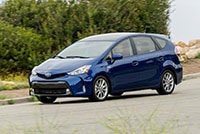 The Prius v drivetrain is practically a duplicate of the one in the previous-generation Prius Liftback. Because the wagon weighs some 300 pounds more, performance inevitably suffers. When the Prius v is filled with passengers and cargo, the 98-horsepower gasoline engine, coupled with dual electric motors, is overtaxed. You can also expect a struggle when trudging up steep hills.
Not only is the Prius v slower than the prior-generation Liftback (which wasn't noted for brisk acceleration itself), the engine howls more when pushed hard. For safety's sake, you need to plan ahead when an uphill run is imminent, to deal with the limitation and make full use of the available power. Steering is numb and lifeless.
Like other members of the Prius family, the Prius v offers a choice of three drive modes. Eco promises fuel economy better than the EPA rating, but slows the car significantly. The Power mode is intended for climbing steep hills, but can help the Prius v keep pace with traffic. EV provides electric-only propulsion for up to a mile, at low speeds, to the limit of the battery's capacity.