2016 Toyota Prius v Summary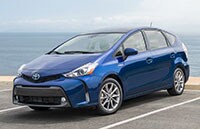 Hybrid buyers who are more impressed by spaciousness and a flexible interior than brisk performance have a practical alternative in the Prius v. Even the base Two model is nicely equipped, and the Three may be tempting. Price differences between trim levels aren't gigantic, but watch out for costly options.
Driving impressions by John Voelcker, The Car Connection. James M. Flammang contributed to this report, with Mitch McCullough reporting from the New York metro area.