2016 Toyota Prius v Walk Around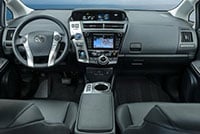 For 2015, Toyota gave the Prius v updated styling, including new headlights and taillamps as well as a front end that might be considered more edgy and modern. Headlights got slimmer, flowing right into the grille opening. Slits below the headlights tend to make the front end appear lower and wider.
The front of the car looks chunky, like the designers remembered there was a bumper standard and quickly glued on a front fascia.
The difference between the regular Prius Liftback and the Prius v wagon isn't necessarily interior space or divergent appearance. For many potential buyers, it's the back window. Many drivers who are familiar with the traditional Prius are likely to appreciate the wagon's rear window, which is a single pane of vertical glass. Ever since 2004, the Prius Liftback has had two split panes: the upper one approaching horizontal, while the lower panel is upright but shallow. End result: not great for visibility, giving the Prius v one leg up in driving ease.
Interior
Prius v has lots of interior space and seats five. Depending on the position of the fore/aft-adjustable back seat, you get 34.3 to 40.2 cubic feet of cargo space. With rear seatback down, it expands to 67.3 cubic feet.
Front seats are comfortable, and the split rear seatback can recline. Passengers sit higher, and more upright, than in a Prius Liftback.
A central armrest sits atop a storage bin between the front seats. A diverse group of icons, symbols, and diagrams, all in color, is displayed high on the center dashboard, near the windshield.
Because interior width comes to 39 inches, large items can slide easily along the flat cargo floor. A vinyl cover fits between that load floor and the folded-down seatback, but it's still possible for small items to fall into the gap.