2016 Toyota Prius Driving Impressions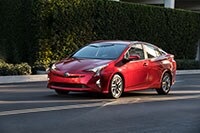 For the first time, the traditional Prius Liftback drives and handles like a regular car, perhaps broadening its appeal beyond hybrid devotees. Acceleration is roughly the same as before. Though it's a mightily changed vehicle, the 2016 Prius Liftback is still short on power.
In terms of roadholding, handling, and feel of the road, though, the latest Liftback presents a different sort of experience. The previous Prius was well-known for its numb steering and minimally engaged roadholding, as well as substantial body roll. Not anymore. The 2016 model is more pleasurable to drive, and the lower seating position makes it feel a bit more sporty. Or at least, like a conventional hatchback.
Engine noise while accelerating has been suppressed considerably, though road noise may appear on coarse pavement. Although the ride is generally good, hard directional changes on rough surfaces could induce modest bounciness.
Toyota stuck with its twin-window tailgate, which isn't the greatest for rearward visibility. In addition, the view over the driver's shoulder has worsened, largely because of the rising beltline.