2016 Toyota Prius Summary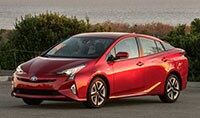 With lower gas prices, Toyota needs to sell Priuses to more buyers than those who want to save money on fuel, or demonstrate their environmental commitment. Because the latest Prius drives more like a regular car than its predecessor, such a goal seems reachable though some potential buyers might be dissuaded by this iconic hybrid's new look.
Driving impressions by John Voelcker, The Car Connection. James M. Flammang contributed to this report.