2016 Toyota Prius Walk Around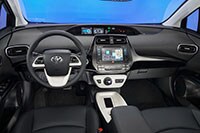 Toyota broke free of prior Prius designs for the 2016 model. The new appearance is controversial, especially the tall rear end, which seems to have an excess of conflicting elements. No other back end looks like the latest Prius, with its chevron-shaped taillamp lenses.
Up front, despite a lower and sleeker nose, it's recognizable as a Prius. Sweeping accent lines make bodysides appear less slab-sided. Toyota says the overall shape was inspired by a runner in the starting blocks. Standard LED headlights tend to appear smaller. Among other modifications, the apex of the roof was pushed forward.
Interior
While the exterior initiates controversy, the new Liftback's freshly refined interior has improved considerably. It's now less upright.
New form-hugging front seats have better-shaped cushions, plus more side bolstering. The driver sits significantly lower than before. Because the roofline is lower at the rear, taller passengers in the back seat could be short on headroom.
Previous hard-plastic textures have been replaced by more pleasing soft-touch surfaces. Full-color graphics have edged aside the previous muddle of monochrome displays. Cupholders, bins, and storage trays sit lower, adding to the more spacious cabin feel.
A multi-information display with twin 4.2-inch screens is centered in the wide dashboard, thus maintaining a somewhat futuristic look. Controls are less scattered than before, but the idiosyncratic Prius shift lever remains.