2016 Toyota Tacoma Walk Around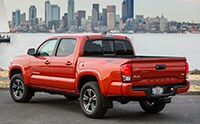 Getting in and out of the new Tacoma is a bit awkward and, pinched by its high floor and low roof, it feels a bit cramped inside, as before.
The cabin is traditional in layout but with an attractive flat-topped dash similar to that seen in other recent Toyotas. Bright trim has been abandoned in favor of new materials and finishes. Materials and trim vary by trim level. A GoPro camera mount comes standard.
The front seats look like they are from a 1990 sport compact car. They lack support, feeling like they are made of foam, and they are short on adjustability. Fortunately, the steering wheel tilts and telescopes. A rearview camera makes backing up easier.
The rear seats in Double Cabs are tolerable for two adults, crowded for three children. The rear seat bottoms (split 70/30) flip up to reveal handy storage bins, or cover the area with moving pads and it becomes a usable dog space.
Interior
The new 2016 Toyota Tacoma is close to the same size and proportions as the previous version. The sheetmetal is all new but it does not jump out as being all-new.
The hoodline has been lifted, giving the front a bolder appearance more like that of the full-size Toyota Tundra pickup, wioth angled headlights and a hexagonal-shaped grille. From the side, the new model looks a little more conservative than the outgoing model, with redesigned fenders and wheelwell lips. From the rear, it looks like a traditional pickup. The lower portion of the tailgate is sculpted, with the Toyota nameplate stamped beneath.
The tailgate is damped so it lowers slowly when opened, much nicer than having to lower a heavy tailgate by hand or having it slam down with a bang.
As with heavy-duty pickups, the Tacoma's rear bumper has covered connectors for hooking up a trailer (with both of the common types of connectors). In the bed is a covered 115-volt AC outlet, useful for plugging in power tools or anything that needs house current.
The bed features a deck rail system with adjustable tie-downs up high, along with four tie-downs mounted on the bed, that make it easier to secure different types of cargoes, including dirt bikes.