2016 Toyota Tundra Driving Impressions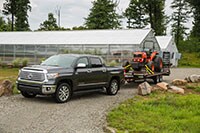 Powertrain choices are more limited than on American pickups. At 10,400 pounds, maximum towing capacity trails the domestic models. Yet, the Tundra can be a tempting contender.
Performing well generally, Toyota's two V8 engines feel similar, at least in city-street driving with an unladen truck. Low-end acceleration is good, and a Tundra is acceptably quick, provided that it's not loaded to its limit. Both V8s tend to lose oomph as speed rises or weight increases.
If you're pulling a heavy trailer, pick the 5.7-liter engine. The 4.6-liter Tundra starts to feel anemic when carrying four tons or so. Even with the larger V8, the Tundra isn't all that eager to attain freeway speed in, say, the length of an on-ramp. Ford, Ram, and GM pickups tend to feel more confident when accelerating with a substantial load.
Expect easygoing behavior when driving through traffic. Ride quality is reasonably comfortable, though pavement bumps and seams typically produce impacts beyond the normal range. Light steering isn't as quick as it would be in an F-150 or Ram.
In urban use, the Tundra handles well, in a mannerly way. Choose a TRD model with its upgraded suspension and tires, however, and the ride won't be quite so enticing.
Despite its 310-horsepower rating, the 4.6-liter V8 cannot quite compare with V6 engines from Ford and GM. Acceleration is hardier with the 5.7-liter engine, but even that V8 doesn't really match a Silverado V8 or Hemi Ram.
Both V8s use 6-speed automatic transmissions, which shift smoothly and respond promptly enough.
Gas mileage is a sore point. With rear-drive, the 4.6-liter V8 is EPA-rated at 15/19 mpg City/Highway, or 16 mpg Combined. A rear-drive Tundra with the bigger V8 is EPA-rated at 14/18 mpg City/Highway, or 16 mpg Combined.