2016 Toyota Yaris Summary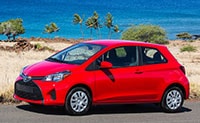 Engine noise and lack of power in highway driving might be forgiven if the Yaris got better gas mileage. Among the competition, the Nissan Versa has more back-seat space, and Honda's Fit offers greater cabin flexibility. All three beat Yaris in fuel economy. For far greater thriftiness, Toyota's subcompact Prius C is worth considering. On the plus side, Yaris is less expensive than Fit, has more comfortable seats than Versa, is smooth and quiet, and is convenient for running errands.
Driving impressions by John Voelcker, The Car Connection. NCTD editor Mitch McCullough and correspondent James M. Flammang contributed to this report.