2016 Volkswagen Beetle Introduction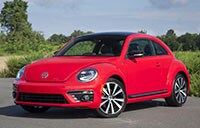 It's hard to believe that it's been nearly 20 years since the Volkswagen Beetle was reborn, as the New Beetle. Thankfully, they don't call it New any more, and it's been redesigned a couple of times since then, but the 2016 Beetle continues the successful idea. It's not trendy any more, now it's mostly just fun, functional, and classic. If you don't need a hatchback, it could be for you.
Like the Mustang, the Beetle pulls off retro. It retains its classic style in a world that keeps changing styles. Underneath, the front-wheel-drive chassis is contemporary.
The Beetle looks happy. In fact, that's its appeal, and its identity.
The Beetle instrumentation is simple, to bring back the days of the old Beetle when life was simple, and bless Volkswagen's loyal heart. But still there's most of the modern digital stuff that sometimes makes it simpler.
There's a Beetle convertible as well as a coupe. The base engine is a 1.8-liter turbocharged four-cylinder making 170 horsepower, or an R-Line model making 210 horsepower from a 2.0-liter turbo. There are four transmissions: a 5-speed manual, 6-speed manual, 6-speed automatic, and 6-speed dual clutch.
The Beetle 1.8T with 1.8-liter turbocharged gas engine comes as Beetle S, Beetle SE, or Beetle SEL; while the R-Line with 2.0-liter turbocharged engine comes in SE or SEL trim. Also, available for the 2016 Beetle is a new infotainment system with 5.0 or 6.3-inch touchscreens, and USB port.
The 2016 Volkswagen Beetle Dune, inspired by the classic Baja Bugs, features bold exterior styling, raised ground clearance and special interior trim. The Beetle Dune is available as a coupe or convertible.
(The TDI diesel model has been discontinued. If you have one, Volkswagen will buy it back.)
The Beetle coupe earns five stars for safety from NHTSA, while the convertible hasn't been tested. The IIHS gives the coupe gets decent scores, except only Marginal in the small front overlap test.
Beetle 1.8T gets an EPA-rated 25/34/28 miles per gallon City/Highway/Combined, with either the manual or automatic transmission. The 210-hp Beetle R-Line coupe gets 24/31/27 mpg with the dual-clutch, or one less combined mpg with the 6-speed manual.