2016 Volkswagen CC Driving Impressions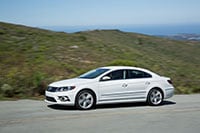 The CC 2.0T has good power at both high and low rpm, with no significant turbo lag. Standard transmission is a reliable 6-speed manual, but the available Audi-developed twin-clutch DSG transmission is aces, with its snappy shifts even in Auto mode. There's a Sport mode that quickens the shifts even more.
The 3.6-liter V6 makes 80 more horsepower but it's heavier; add the all-wheel-drive system, and the VR6 lacks the nimble handling of the 2.0T. Not only that, the gruff V6 is shy on torque at low rpm, and acceleration is not snappy, its 6-speed automatic transmission suffering from poor timing and slow kickdowns. The 2.0T nearly matches the VR6 in acceleration, while shifting better and getting five more miles per gallon.
With either engine, the ride is absorbent and controlled, and the brakes are strong and capable.
The 2.0T handles better than your average midsize sedan, although not like a German sports sedan, as the body leans in corners when it's pushed hard. Still, it's not out of its element on a curvy road, as the electric power steering loads and unloads smoothly, and gives the car a relaxed demeanor on the highway, although it can feel a bit airy around town.