2016 Volkswagen Golf Driving Impressions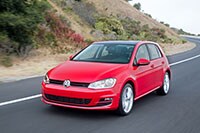 The 1.8-liter is more powerful than most base engines in this class and pulls the Golf along with authority. Quick bursts of power are there when you need them, and yet the engine never feels like it's working too hard. In fact, it's unusually refined for its size.
The electric power steering feels light, precise, and well-tuned for everyday driving. The relatively firm suspension provides stable handling, but it's compliant enough to permit a comfortable ride. The Golf's rolling smoothness and low noise levels make it a surprisingly good long-distance cruiser. While it's not the sportiest choice in this class, it's certainly one of the most balanced.
Although the GTI focuses more on performance, it's also very easy to live with on a daily basis. The 2-liter engine and beefier suspension transform the Golf into a genuine driver's car. It's quick, nimble, and composed at high speeds. The available Performance Pack tacks on upgraded brakes and 10 extra horsepower for even edgier performance. You can also order an adaptive suspension system that smooths out the ride without interfering with handling.
The Golf R feels like a GTI that's been to a tuning shop. The highly modified 2-liter takes the R from zero to 60 mph in less than 5 seconds. Various suspension upgrades and the performance-tuned all-wheel drive system give the sensation of being bolted to the pavement. Even so, the R can behave like a perfect gentleman when you want it to. There are three driving modes (Comfort, Normal, Race) to suit your mood, plus an Individual mode that you can program yourself.