2016 Volkswagen Jetta Driving Impressions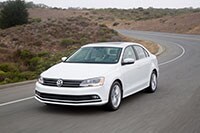 There are a total of seven powertrains available with the Jetta, with three turbocharged engines and four transmissions, and that's not counting the Hybrid.
The 1.4-liter engine makes 150 horsepower and 184 pound-feet of torque, and is mated to either a 5-speed manual gearbox or a 6-speed automatic transmission. The new engine comes out looking awfully good, when compared to the 1.8T in the Sport model, that uses the same transmissions. The 1.4T makes the same torque, and only 20 less horsepower. Like the 1.8T it's smooth and quiet. The 1.8T revs especially sweetly, and drives the Jetta from 0 to 60 miles per hour in 7.0 seconds, but the 1.4T is not far behind.
The Jetta GLI 2.0T brings the horsepower, at 210, as well as torque from turbo boost at low rpm. It delivers exciting acceleration to 6000 rpm, with growls and whistles coming from under the hood in the curves, leaving silly grins on the driver's face. We'll take the quick twin-clutch six-speed transmission over the six-speed manual, with its notchy shifts and long pedal.
The 44-mpg Hybrid takes the 1.4T engine and adds a 20-kilowatt (27 hp) electric motor with a clutch on each end, for a total of 170 horsepower. It uses a seven-speed twin-clutch transmission. The electric motor can power the Hybrid to 44 mph, and it takes over in what VW calls sailing mode, to solely power the car when it can, when the car is just cruising.
You hardly know it's a hybrid until you step on the brakes. They feel lifeless under your foot, and then the pedal pushes back, as it goes from regenerative (battery-charging) to mechanical stopping.
With its four-wheel independent suspension, the Jetta's handling matches that of the Mazda 3 and Ford Focus, and that's saying something. It provides the best combination of ride control and precise feel. There's virtually none of the bounding and hopping that you might feel in a Kia Forte, for example. There's good feedback from the electric power steering. The brakes are strong, confident and deep.
The Honda Civic handles better than it ever has, and the Ford Focus handles European crisp, but they still don't corner with the confidence of the Jetta, while bringing its supportive ride.
Now bring the Jetta GLI. Firmer suspension, lower ride height, optional 18-inch wheels, rear discs, and electronically simulated front differential lock to tighten the line in corners. It doesn't go as far as it could, into hardcore sports sedan territory, but it's great at seven tenths, with its superior suspension tuning.