2016 Volkswagen Jetta Walk Around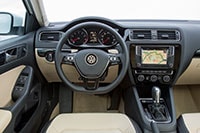 Volkswagen Jetta is no copycat. And it's plainer than a Toyota Corolla. It lacks the visual style of a Focus, Cruze, or Elantra.
Its grille is just three horizontal bars. LED running lights are optional, and needed to jazz up the Jetta. The small spoiler on edge of the trunk is reminiscent of Jetta's sibling the Audi 4. LED taillamps are available on the GLI and Hybrid, and add some upscale to the tail.
The GLI actually has its own style and design, lower, with bolder front fascia and honeycomb grille; at the rear there's a diffuser and twin chrome tailpipes. It steps into the sports sedan world with available black 18-inch wheels and red brake calipers. The GLI also gets a flatbottom steering wheel and sports seats with red stitching.
Interior
The Volkswagen Jetta cabin exudes calmness, not challenging drivers with excessive instrumentation. The controls are generally intuitive. VW engineers and designers put a lot of thought into things like icons, since the car's interior has one global design. German brains, Asian brains, and Anglo brains work differently. Not to mention young brains, mature brains, and aged brains. All those brain needs must be met, to have globally intuitive instrumentation.
Classic round gauges. Start button on the console. Excellent available leatherette upholstery with comfortably firm German seats (we haven't driven a model with the standard cloth); available sport seats with more bolstering are firmer yet, maybe too firm. Great driving position with steering wheel controls. Space in the rear seats is more midsize than compact, a third adult might actually be able to go for a ride back there. Wide rear doors. Folding rear seats with small pass-through to the trunk, where there's as much room as a midsize sedan, with an opening that's wide and low.
There's a USB port near the bin in front of the shift lever, which is too small for a smartphone, so it goes in one of the two cupholders. There are also water bottle holders in the doors.
The quality of the plastic trim depends on the model. In our 1.4T SE, all the plastic was hard except for the armrests. And the dashboard rattled and buzzed. It's something you almost never see nowadays.