2016 Volkswagen Passat Introduction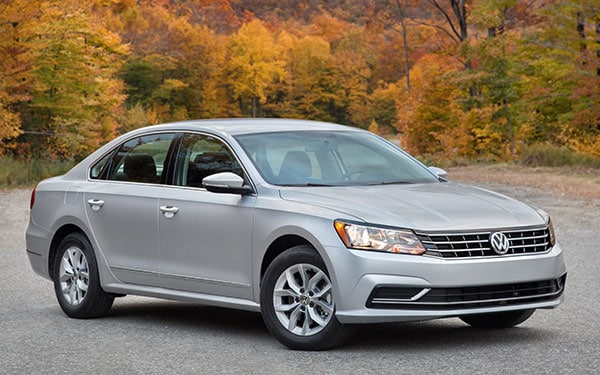 The 2016 Volkswagen Passat is freshened with styling and technology updates that help to make it one of the more appealing sedans in its class.
Passat is a nameplate that goes back to the early 1970s, when Volkswagen moved to expand its product range beyond the beloved Beetle. Over the course of eight generations Passats have appeared in sedan and wagon body styles, generally falling into the midsize category. Never spectacular, always solidly Teutonic in character, Passats have weathered times when quality problems plagued Volkswagens in general.
Introduced for 2012 and freshened for 2016, this Passat differs from previous generations in that it's unique to the U.S. market: bigger than the European version, assembled at a U.S. plant (Chattanooga, Tennessee), and attuned to what VW product planners perceive to be American tastes in terms of vehicle dynamics. What that means is suspension components a bit softer than Passats sold elsewhere in the world.
The 2016 Passat updates make it more eye-catching, its infotainment systems have been enhanced, and safety updates strengthen its ratings with the National Highway Traffic Safety Administration and Insurance Institute for Highway Safety. But its strong suits continue to be those that made it a leading player in the midsize sedan derby when it made its debut four years ago: exceptionally solid structure, excellent build quality, autobahn genetics, and full-size sedan roominess.
There are two engine options: a turbocharged 1.8-liter four-cylinder (170 horsepower, 184 pound-feet of torque), and VW's unique narrow angle V6 (VR6, in Volkswagen-speak) with 280 hp, 258 lb-ft of torque. Both engines send power to the front wheels via 6-speed automatic transmissions. The four-cylinder is paired with a conventional torque converter automatic, while the VR6 is paired with Volkswagen's excellent dual-clutch design, featuring paddle shifters for manual operation.
EPA fuel economy ratings are 25/38 mpg City/Highway for the four-cylinder, 20/28 mpg for the VR6.
At this writing, VW still had not come up with a fix for its 2.0-liter turbodiesel engine, the center of an emissions-cheating scandal affecting some half-million cars in the U.S. Thus the Passat TDI option is off the table until further notice.
Passat 1.8T S is exceptionally well appointed for a base model.